ITALIAN version
Dates: November 7-13, 2021
Location: Viterbo, Museo del Colle del Duomo
Participants: 20
CLICK HERE FOR MORE INFORMATION
FOLLOW ONLINE THE ORGANIZATION OF THE TRAINING CAMP!
The Training Camp is a training course divided into frontal teaching and practical exercises.
The course aims to provide participants with the necessary tools to design a multidisciplinary diagnostic approach for the analysis of works of art, through some of the most innovative portable investigation techniques made available by the Researchers and Universities involved and to disseminate the results in the museum set-up.
TARGET AND PARTECIPANTS:
The training camp is directed to students or  workers (workers must participate outside their working hours and without any other support, even indirect, from their employers).  The target is university students with at least 180 credits, graduates or freelancers working in the field of conservation and restoration working in the field of Cultural Heritage (restorers, conservators, museum directors, art historians,  conservators, architects, restoration directors, museum operators).
During the Training Camp some of the most used technologies for in-situ characterization of cultural heritage materials will be discussed, focusing on their advantages, their limits and their costs, all aspects to be taken into consideration in order to plan a restoration or a conservation strategy.
The skills acquired during the training camp will make the participants more competitive in the world of work, where transversal skills and updates on new technologies are increasingly required.
IMPORTANT DATES
Deadline for submitting applications for admission: 15/07/2021 (CLOSED)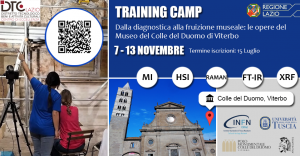 Participants will learn the use of some of the most innovative techniques in the field of Cultural Heritage.
The complementarity of the information will help participants in choosing the appropriate investigative strategy, facilitating and accelerating their work.
Lectures will include the description of the physical principles of the diagnostic techniques used and their use for solving practical problems.
Great importance will be given to the case studies previously addressed by the researchers, in order to provide participants with an overview of the potential of the techniques applicable to their field of work.
WHY PARTICIPATE?
WHICH TECHNIQUES WILL BE USED?
Hyperspectral Imaging (HSI) – University of Tuscia, Viterbo
Raman spectroscopy –  Research Center of ENEA, Frascati
Fourier transform infrared spectroscopy (FT-IR) – INFN Frascati National Laboratories
X-ray fluorescence mapping (XRF) – INFN-CHNet Section of Florence
PRACTICAL INFORMATION: all logistical information will be updated on this page as soon as it is available.
ORGANIZATION:
F. Aliperti

A. Balerna

G. Di Fusco

L. Castelli

M. Cestelli Guidi

C. Colantonio

D. Ferrucci

L. Lanteri

C. Pelosi

L. Pronti

M. Romani

C. Ruberto

V. Spizzichino

G. Viviani